For the last 10 years, the Best Brand Awards has been recognizing famous brands throughout the country that have successfully delivered the best quality and nationwide admissibility.
The 10th edition of Best Brand Awards, jointly organized by the Bangladesh Brand Forum (BBF) and Nielsen Bangladesh, in association with The Daily Star, was held on Saturday, 8th of December 2018 to honor the brands who always try to bring something unique to the table and differentiate themselves in the competitive market.
SEE ALSO: Best Brands of 2018 in Bangladesh [top 3 brands in each category]
Top 15 Brands in Bangladesh – 2018 [Infographic]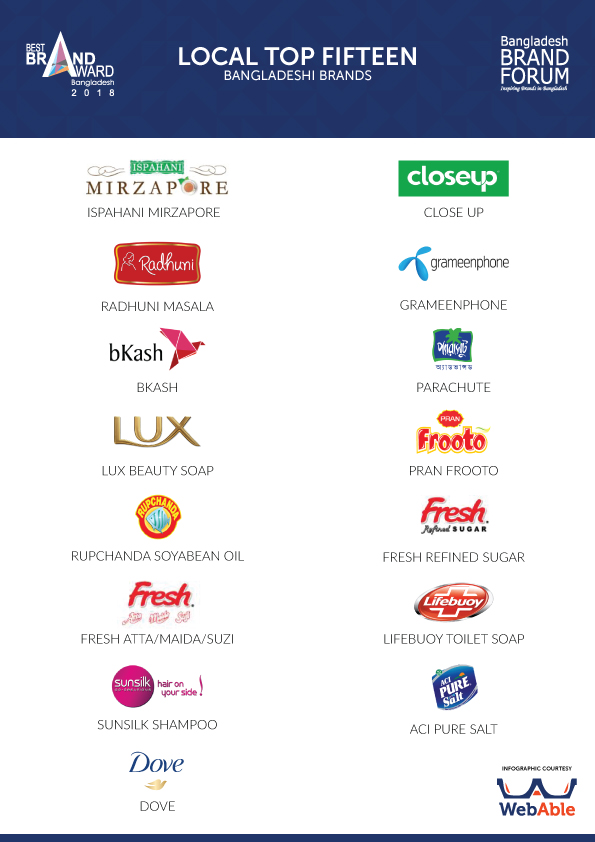 Overall Top 15 Brands in Bangladesh
Want your brand to win in digital marketing? WebAble Digital is a top digital marketing agency with operations in Bangladesh and Singapore. WebAble's 75-member team helps brands and nonprofits to engage with their audience in the right place, at the right time, and in the right context using actionable analytics and scroll-stopping creatives.
WebAble has turned 5 this year! See our best work.
Contact us for your next big campaign, activation, or strategy work.
Services provided by WebAble Digital:
Communications Strategy, Advertising, Brand Design & Identity, Digital Media Planning, Data Analytics, ROI, Performance Marketing, Social Media Marketing, Social Media Query Management, Campaign Management, Content Marketing, Influencer Engagement, Sports Marketing, Motion Graphics, Audio Visual, Video Production, Graphic Design, User Experience Design, Full-stack Development, Chatbot Solutions, Search Engine Optimization, PPC, Facebook Advertising, Google AdWords, Email Marketing, Digital Marketing.
Top global brands in WebAble's portfolio are Mercedes-Benz, Bata, Alibaba Group, Reckitt Benckiser, GSK, MetLife, LafargeHolcim, CEAT, Toshiba, Dell, ASUS, and Kaspersky. WebAble has served clients in the UK, Switzerland, Canada, Bangladesh, China, Singapore, and Australia. WebAble's management team has a combined 72 years of experience in Marketing, Advertising, and Technology in the Asia Pacific and Southeast Asia region.