Switzerland is a difficult place for digital marketers. The tiny landlocked country has four official languages: Swiss German, French, Italian, and Romansh. In case you're thinking what Romansh is, it's the Latin language spoken by a small Swiss minority (50,000 people). So yes, language makes it pretty difficult for not only Marketing and Communications in general, but Digital Marketing too in many ways. Here are some to name a few:
1. Keywords and Content Creation
How do you do SEO for a brand in 4 different languages? Imagine you're writing regular blogs, you'll have to come up with content relevant to people from all three major regions who, aside from language differences, also have varied tastes and cultural preferences. Often, you'll be using multilingual copywriters but you have to admit that no matter how many languages you speak, you really need to be local to resonate with the truths of your audience. To solve this, hiring freelancer copywriters who are strong with local conditions is key. Not only will they be able to create better content that appeals to the locals from each region, but they'll also be able to profile the audiences better in terms of engagement and distribution. Speaking of distribution channels, that's another challenge right there.
2. Channels
Let's say you're managing social media marketing for Interdiscount or H&M, would you be publishing in 4 different languages using a single account or on separate Facebook pages, Twitter handles, etc. For each language? Most brands would go for multilingual publishing through single accounts but this would give the pages a cluttered look. Not much you can do about it. Let's say you're using a social media management tool like Hootsuite, the person in charge of the content calendar and schedule will definitely find it quite challenging to manage and schedule posts in several languages. Just publishing them isn't enough, you have to respond to all the queries both public and private, this challenge is discussed in point number 3 below – Community Management.
3. Community Management
Your customers are always talking. Whether publicly in posts or privately by sending messages, they are constantly looking for answers. Your public posts can look cluttered when your comments are popping up in 3 or 4 different languages. In an age of seamless integration in literally everything we have, it discomforts the eye and gives your page a bad feeling with several languages being used at the same time. Perhaps the way to address this is by having multilingual community managers with the good customer service experience. This is the most critical part of digital marketing – this is where all your digital marketing efforts are translated into conversations – you need to find the friendliest, nicest and coolest Swiss people around over here – I would say someone from the French Part of CH would do a great job here.
4. Work Repetition: Adaptations
Double work for creative-copy writings, designs, captions, you name it, you'll need to do everything thrice, and make sure it goes with the brand guidelines or the campaign guidelines in general. Monitoring and reporting become quite a challenge here as well, perhaps monitoring mechanisms also need to be aligned for different languages.
5. Language Problem is not Region Specific
Just because you're from Ticino does not mean you'll be living in Ticino, you could as well be working in Zurich, and perhaps you've already managed to find a decent job despite your poor German skills. Would you have any idea if a sponsored post was appearing on your timeline? Unlikely. But then you would sometimes find posts that have all three languages in them, just like all the Swiss websites, and the same post would be written in 3 different languages (with just one hash tag that actually works). It would be quite a challenge. Here's an example of a post like that right here.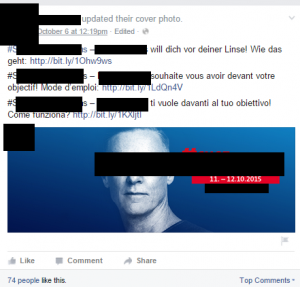 Bottom Line: Multilingual communication is a problem for digital marketers. Right now we're talking about just Switzerland, but there are other countries where this problem exists, India for example. While agencies and brands are finding ways to address it, perhaps social networks like Facebook and social media management tools like Hootsuite have a new problem to fix.
---
---
Rizwan Shamim is a Digital Account Executive at WebAble where he manages several top local and multinational brands. He is also passionate about startups & entrepreneurship. Before Webable, he worked at Startup Dhaka, HSBC, and the University of Lugano, Switzerland. Follow him on Twitter: @MDRIZS or check out his LinkedIn profile.