Reading is an integral part of our personal growth. All great leaders are great readers. At Future Startup [FS], we take reading as an essential element of our culture and how we grow. There are hundreds of books to read up on startup and entrepreneurship, many of which are wonderful read while many are not worth a second read. As part of our monthly reading club, here are three books we are reading this month. These are interesting and important books and written by entrepreneurs. We hope you will enjoy it.
Are there any other books you have found interesting and important? Please do let us know in a comment.
---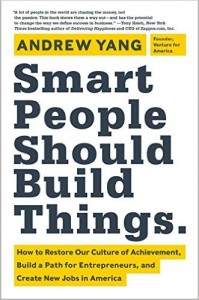 Smart People Should Build Things by Andrew Yang of Venture for America
Andrew Yang, the founder of Venture for America, offers a unique solution to our economic and social problems—our smart people should be building things. Smart People Should Build Things offers a stark picture of the current culture and a revolutionary model that will redirect a generation of ambitious young people to the critical job of innovating and building new businesses. As the Founder and CEO of Venture for America, Andrew Yang places top college graduates in start-ups for two years in emerging U.S. cities to generate job growth and train the next generation of entrepreneurs. He knows firsthand how our current view of education is broken. Many college graduates aspire to finance, consulting, law school, grad school, or medical school out of a vague desire for additional status and progress rather than from a genuine passion or fit.
Find more here.
---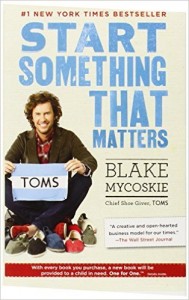 Start Something That Matters by Blake Mycoskie
What matters most to you? Should you focus on earning a living, pursuing your passions, or devoting yourself to the causes that inspire you? The surprising truth is that you don't have to choose—and that you'll find more success if you don't. That's the breakthrough message of TOMS' One for One movement. You don't have to be rich to give back and you don't have to retire to spend every day doing what you love. You can find profit, passion, and meaning all at once—right now.
In Start Something That Matters, Blake Mycoskie tells the story of TOMS, one of the fastest-growing shoe companies in the world, and combines it with lessons learned from such other innovative organizations as a method, charity, water, FEED Projects, and TerraCycle. Blake presents the six simple keys for creating or transforming your own life and business, from discovering your core story to being resourceful without resources; from overcoming fear and doubt to incorporating giving into every aspect of your life. No matter what kind of change you're considering, Start Something That Matters gives you the stories, ideas, and practical tips that can help you get started.
Find more here.
Zero to One: Notes on Startups, or How to Build the Future by Peter Thiel
Zero to One is about how to build companies that create new things. It draws on everything the writer has learned directly as a co-founder of PayPal and Palantir and then an investor in hundreds of startups, including Facebook and SpaceX. But while he has noticed many patterns, and he relates them here, this book offers no formula for success. The paradox of teaching entrepreneurship is that such a formula necessarily cannot exist; because every innovation is new and unique, no authority can prescribe in
concrete terms how to be innovative. Indeed, the single most powerful pattern he has noticed is that successful people find value in unexpected places, and they do this by thinking about business from first principles instead of formulas.
Find more here.
FS is a mission-driven media company that provides insight, inspiration, and information to makers, startups, entrepreneurs, and investors. Future Startup's purpose is to enable people to take initiative and make ideas happen. Our Website and Community Event help people in starting and building things in Bangladesh. At FS we aim to build an ecosystem to promote and facilitate the idea of taking initiative, as we believe that's how we solve critical problems and make progress, and to provide support, system, services, and tools to make ideas happen.